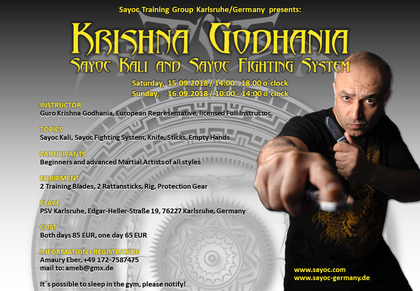 ---
Guro Krishna Godhania is a world class master of the filippino martial arts. He is the european representative and a licensed full instructor for Sayoc Kali. 
He convinces with his huge technical repertoire and expertise and foremost with his excellent teaching style. 
This will be the 12th seminar with Guro Krishna in Karlsruhe and they were all great. Don ´ t miss it!
Date/Time:
15.09.: 14:00-18:00 Uhr followed by private session for Sayoc Members
16.09.: 10:00-14:00 Uhr
Place:

PSV Karlsruhe, Halle 3

Participants:

Beginners and advanced people of all martial arts. We will be training in different groups, depending on knowledge. So everyone can participate and train at their own pace.

Material:

Sayoc Kali and Sayoc Fighting System;

Knife, Double Knife, Stick, empty hands

Kosten:

Both days 85 EUR, one day 65 EUR
---
Seminar Flyer en
Krishna_September2018_en.pdf
Adobe Acrobat Dokument
1.3 MB